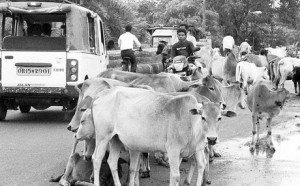 While stray cattle and dogs dominate the streets of Sambalpur town leading to a number of accidents including some fatal ones, the civic authority has not initiated any measure to control the menace.
With stray cattle invading the roads and squatting right in the middle of the roads indifferent to blares of horns, instances of traffic jams and snarl ups in the town has become a daily affair.
Although the Municipality has been giving different versions at different points of time over steps to check the menace, it is clueless about managing it.  The issue crops up in almost every meeting of the Municipal Council, but unfortunately it does not progress beyond that.
The situation was under control till the Municipality ran a kine house at Mudipada to keep the stray cattle but it was closed 20 years back and no step has been taken to revive it.
In the absence of any regulations, the cattle owners are letting their domestic animals free on the road. The Municipality claims to have recently made an announcement through public address system appealing to the owners to take custody of their cattle.
But the measure evoked little response. The problem is not restricted to any particular area.
It has spread to the entire town including Charbati Chowk, Jail Chowk, Ainthapali Chowk, Golebazar Chowk, Church Chowk, Laxmi Talkies Chowk and important markets. Since the authorities have not taken any initiative to solve the problem, the number of stray cattle has been increasing. Not only do they add to the chaos but also create unhygienic situation.
Sources in Municipality office said staff have been deployed to chase away the cattle but it is of little help as it provides only temporary relief with the cattle returning to the road soon. Meanwhile the claim of the Municipality of roping in NGOs to control the menace including castration of stray dogs remains confined to pen and paper.
Even a vehicle to capture stray dogs has been procured but it has been gathering dust as the Municipality is yet to chalk out any concrete plan in this regard.
When contacted, Executive Officer of Sambalpur Municipality, Aniruddha Padhan said they are in touch with the Chief District Veterinary Officer (CDVO) to find out a solution to the problem and all efforts are being made to get rid of the menace.