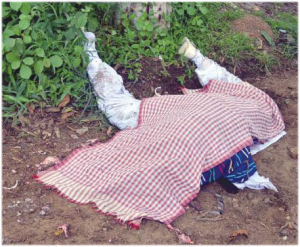 A mob torched a dumper near Sindurpankchowk under Sadar police limits on Saturday after it ran over a girl killing her on the spot. The accident took place when the girl, Itishree Dhar, 13, a Class VIII student of Ganesh Girls' High School, Dhanupalli, was returning home on a bicycle.
The driver and helper of the dumper fled. "Before we arrived, the mob had torched the vehicle. We tried to extinguish the flames with the help of fire brigade but it was delayed due to the mob," said SDPO (Sambalpur) P K Mohapatra.
Traffic on Sindupank-Dhanupali road, which links Kolkata-Mumbai NH and Sambalpur-Cuttack NH, was disrupted for over five hours as the mob staged a road blockade demanding compensation to the family of the deceased and construction of a new road linking the highways outside the town.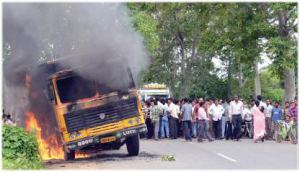 They cleared the road following an assurance from the administration. "The administration has assured us to take immediate step to construct a new bypass linking the both highways outside of the town. The tehsildar also assured to provide compensation to the victim's family," said president of BJP, district unit, Nauri Nayak.