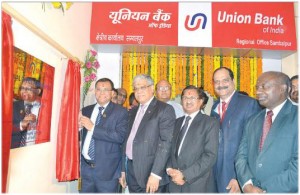 Union Bank of India(UBI) opened its 60th regional office at Sambalpur, its second in Odisha. The regional office was opened by H R Khan, Deputy Governor of Reserve Bank of India (RBI) in the presence of D Sarkar, chairman and managing director of Union Bank.
This office will cater to the branches of the public sector bank in 15 districts- Sambalpur, Bargarh, Jharsuguda, Deogarh, Sundergarh, Sonepur, Bolangir, Boudh, Phulbani, Kalahandi, Nuapada, Nabrangpur, Rayagada, Koraput and Malkangiri. In the Sambalpur region, the bank has opened seven ultra small branches in Bargarh, Malkangiri and Koraput Dists. Under EBT (electronic benefit transfer) model, the bank has opened 149,810 accounts in Sonepur and Bolangir districts only.
In the first phase of financial inclusion, Union Bank was alloted 29 villages with a population exceeding 2,000. The bank claimed to have achieved 100 per cent financial inclusion. The bank on Wednesday also inaugurated its first talking ATM in Bhubaneswar for the visually challenged.