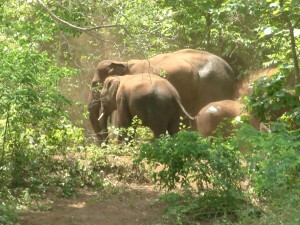 Despite death of 149 elephants, mostly due to poaching and electrocution during last two years in Odisha, the population of pachyderms has increased to 1930 from 1886 in 2010.
"The elephant population in the state is 1930 which comprises 334 tuskers, 1087 females, 46 of unknown sex and 463 calves," State Forest and Environment Minister Debi Prasad Mishra told reporters here.
Stating that about 7,000 people were involved in the three-day elephant census carried out in 38 forest divisions on June 1, 2 and 3, the minister said no elephant was sighted in seven divisions.
While the population of jumbos rose in five regions like Angul, Rourkela, Baripada, Berhampur and Bhubaneswar, the number of pachyderm declined in three regions of Bhawanipatna, Sambalpur and Koraput.
The previous census, conducted in 2010 showed the elephant population at 1886 comprising 332 tuskers, 1064 female, 42 unknown sex and 448 calves. There were three elephant reserves namely Mayurbhanj, Mahanadi and Sambalpur. There were 14 elephant corridors in the state, the minister informed.
Though there had been increase in the elephant population, they died in large number during last three years.
While 51 elephants died in 2009-10, the casulty figure in 2010-11 and 2011-12 was 83 and 66 respectively. "At least 21 elephants have died in 2012-13," Chief Wildlife Warden P N Padhi said.
To a question, Padhi said the male-female ratio of elephants in the state was 1:3.33, while the national average had been 1:4.
"I do not subscribe to the argument that the population of tuskers declined due to poaching," Padhi said to another query.
The government have been planning to implement Elephant Corridor Management Plan across 14 jumbo corridors by way of cleaning water bodies, plantation of elephant friendly fodder trees and plants and ensuing connectivity between habitats.